In May 2018 we called into A La Ronde for a quick visit and light lunch in the National Trust cafe. We'd been here before so I thought we'd probably only stay for an hour or so. Several hours later we were among the last to leave as they were shutting up the house! I'd forgotten just how much is packed into this unusual place. It's not particuarly big but it's full of character – the unique 16 sided shape makes for lots of nooks and crannies packed with curiosities.
It was built in the 18th Century for cousins Jane and Mary Parminter who filled it with souvenirs from their grand tour of Europe. At the time it was quite unusual for ladies to even 'do the grand tour' and they were certainly not typical Georgian ladies. Jane inherited her wealth from her family and the story goes that she never married because if she had done so her inheritence would have transferred to her husband. Instead she chose to remain single and enjoy the independent life that her riches gave her. That included designing A La ronde with it's 16 sides to take full advantage of the sunlight at any time of the day (this was of course before electric lights were an option).
The cousins decorated the house in their own unique style. At the very top of the house Jane and Mary painstakingly decorated the central gallery with nearly 25,000 shells. It's too fragile to allow visitors in, but we could still explore it via a touch screen CCTV link.
Enthusiastic volunteers bring the house to life with stories about the Parminter cousins and the different people who owned the house after them. Today A La Ronde is in the care of the National Trust. They've converted the basement into tea rooms and placed tables and chairs on the lawn where we had our lunch overlooking the Exe estuary (a very tasty fish stew, in case you were wondering).
After lunch we took a stroll around the grounds, beyond the well kept lawns and regency garden we discovered a wild flower meadow and a brass-rubbing nature trail.
If you want to pay A La Ronde a visit you'll find the house and grounds are open from around Easter to the end of October. At the time of writing adult tickets for the house, grounds and tea rooms are £9.50, a family ticket is around £24 (free to National Trust members).
Save
Click a picture to see the full size photo album:
What some of our guests thought about A La Ronde:
Bob K from Cottingham recommends a visit to A La Ronde, July 2019.
"A La Ronde – small but amazing. One of the best NT properties we have visited. A real gem." Stuart A from Birmingham, April 2018.
"A La Ronde was an excellent visit" Sara H from Stroud, March 2016.
Where to find out more about A La Ronde:
If you're thinking about a day in the Exe valley then you might like: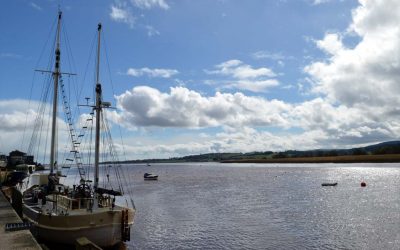 Pay a visit to this charming maritime town on the river Exe where you'll find traditional inns, elegant architecture and a historic waterfront.
read more