They have all been in lockdown for several months and are gradually opening up again. Please always check online or phone ahead to make sure a particular place is open before you make a special journey. In particular you'll find that many eateries are only taking advance bookings so it's worth getting in touch ahead of time – maybe even the week before you leave home.
The Anchor Inn
theanchorinnsidmouth.co.uk | Old Fore Street. Tel. 01395 514129
This busy inn is more of a restaurant than a pub. It's in a central location with tables on the pedestrian street for sunny days. Here's what some of our guests thought about the Anchor Inn: 
"Lovely meal at the Anchor – should have chosen the 'smaller option'!" Margaret H, September 2017
"Great value home cooked meals" Marie S (May 2017).
"The food at the Anchor was pretty good – friendly staff there, but lighting a bit bright!" Kay P (October 2015).
"Great food" Craig R (October 2015).
From July 2015 "Good food at good prices" Peter N.
Michelle PS wrote "We loved the Anchor Inn, very child friendly, excellent food, reasonable prices & excellent service." after their visit in April 2015.
The Chattery
67 High St, tel. 01395 515853.
More or less opposite the Co-op supermarket, this little café is open year round for breakfast and lunch; and for evening meals in the summer.
"The Chattery was particularly good for breakfast" Brenda H (May 2017).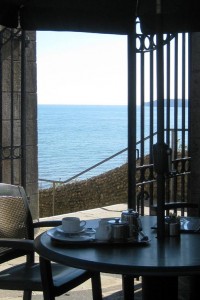 The Clock Tower café
clocktowersidmouth.co.uk | Connaught Gardens. Tel. 01395 515319
A small cliff top café serving big cakes in the beautiful surroundings of the Connaught Gardens. Great for a not-so-light snack or a traditional Devon cream tea. They also serve breakfasts and lunches and, if it's not warm enough to sit outside, there is seating indoors with views over the beach. In our opinion a visit to the Clock Tower Café is an essential part of any holiday in Sidmouth!
"We also walked up Jacob's Ladder to the Connaught Gardens and had a coffee in the cafe – also very good" Carol T (November 2019).
Tim J from Manchester recommended the cream tea at the Clocktower, September 2018.
Nigel C wasn't impressed "disappointing food at the Clock Tower and rather expensive" when they ate there in September 2017.
However, Lesley A said they "enjoyed eating at the Clock Tower Gardens Café, which we did every day" after their stay in May 2016.
Also recommended by John A after their visit in September 2015.
"Cake selection amazing" wrote Julia P (September 2014).
"We would highly recommend the Clock Tower tea rooms at Jacobs Ladder. The cream teas are exceptional and not ridiculously over priced. Worth booking a table in advance though as it was heaving in there!" Nadia L (August 2014).
The Courtyard
 facebook.com/thecourtyardsidmouth | 128 High St, tel: 01395 577553

This local independent cafe started doing take away Sunday lunches during lockdown and are now open for sit down meals. They're carrying on with the take away service too:
"The Courtyard in Sidmouth did an amazing home delivery Sunday lunch" Graham C (July 2020).

Dukes restaurant and bar
dukessidmouth.co.uk | The Esplanade, tel: 01395 513320
A popular bar and restaurant opposite the seafront. On warm dry days you can take advantage of their pleasant courtyard where you can enjoy a meal or just a drink and watch the world go by. The quality of the food is above average and it gets very busy during the peak holiday season. We recommend that you book ahead if you're planning a Friday or Saturday evening meal.
"Best terrace, best restaurant!" Wendela H (September 2019).
Craig R simply wrote "Eat at Dukes" after their visit (October 2015).
"Good food at good prices" Peter N (July 2015).
"Dukes restaurant has very good quality food, but you need to book!" Pauline & Neville G, May 2015.
Field's coffee shop
fieldsofsidmouth.co.uk | Field's of Sidmouth, Market Place, Tel. 01395 515124
Sidmouth's unique independent family run department store has it's own coffee shop open Monday to Saturday until 430pm. They serve tasty light meals, breakfasts and afternoon tea and take pride in the quality of service which was excellent when we last visited.
Recommended by Christine and Adrian after their visit in March 2019.
"Excellent restaurant for coffee and cakes. V. nice staff" Julia F, June 2017.
Recommended by Sue R after their stay in March 2014 and Christine & Adrian S in January 2016.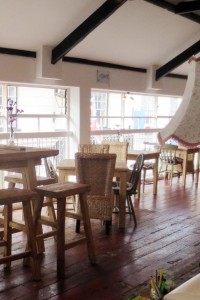 The Loft restaurant
theloftsidmouth.co.uk | Upper Floor, 3/5 Old Fore Street, Tel. 01395 489 681.
A light airy restaurant with a roof terrace for warm days, serving a freshly made Mediterranean inspired menu. At the time of writing the Loft is open from Tuesday to Saturday from 10am to 3pm and Friday and Saturday evenings. Be warned – it's easy to miss because, as its name suggests, it's not at street level. Look for their 'A' board outside the entrance on Old Fore Street, opposite the White Horse.
"We had a lovely meal at the Loft" Rachel G (September 2019).

"Had lunch several times in the Loft" Dickie T (April 2018).
"Good service and food at reasonable prices" Peter N (July 2015).
Mocha café
stouts.co.uk/mocha | The Esplanade
This modern café benefits from a prime location on the Esplanade, with some tables having sea views, although there is very little seating outside.
"We did go to the café Mocha a couple of times and I can highly recommend their Devonshire cream tea, it was delicious" Carol T (November 2019).
Neil's Restaurant
neilsrestaurant.com | Radway Place (near to the cinema), Vicarage Road, EX10 8TLTel. 01395 519494.
A fish restaurant that takes full advantage of local suppliers with a changing menu that reflects both the seasons and the catch of the day.
"Excellent food and service" Barry H (May 2017).
"Book Neil's Restaurant far in advance!" recommended MH (June 2016).
"Neill's fish restaurant was excellent we booked a table from home for the Saturday night, which was definitely worth it. It looks unprepossessing from the outside but actually has a lovely atmosphere and is great for a special meal." Kay P (October 2015).
Neil's is also recommended by Philippa O'R (April 2014).
Pea Green Boat
thepeagreenboat.com | The Esplanade, Tel. 01395 514152
This little café is sandwiched in amongst the hotels on the sea front. There are tables outside for sunny days and it's a great place to have a coffee and people watch. They also have an interesting and reasonably priced menu. We had a very pleasant lunch outside on a sunny Sunday and we can recommend the sharing platter for a light meal.
The Pea Green Boat is recommended by Julia P (September 2014).
"Pea Green Boat was good for kids too." Jemma B (August 2014).
"The Pea Green Boat is excellent – friendly staff and great atmosphere." Juliette S (August 2014).
"We enjoyed Pea Green café – but essential to book." Dave A (August 2012).
Also recommended by Elaine H (February 2013).
"Good for light bites" Rob K (October 2013).
Selley's in Libra Court
facebook.com/Selleys-Coffeeshop-and-Restaurant-Sidmouth-688587267846784 | Access from Fore Street (behind Fatface).
Tucked away behind Fore Street is Libra Court, a sheltered sun trap with local jewellers, quirky craft shops and Selley's Coffee shop. It's a charming location, easily overlooked, and well worth seeking out. The coffee shop owners have made the most of the tiny space with some tables indoors and a large awning outside so that the courtyard can be used whatever the weather. We had a light lunch and the food was delicious, generous portions and obviously freshly made. We'll definitely be back for more.
"Enjoyed the cakes at Selleys" Margaret H, September 2017.
The Sidmouth Tandoori unlicensed restaurant and take away
2 Radway Place, Vicarage Road (opposite the cinema), Tel. 01395 579944
This tiny and very friendly restaurant offers a fairly typical Indian menu. It fills up quickly so if you want to eat in it's a good idea to phone ahead and book a table and remember to bring your own beer or wine as it doesn't have a license. They also have a take away service which is very popular so phone your order through in plenty of time as on busy nights it could be up to an hour before it's ready to collect.
"We tend to book the Sidmouth Tandoori for Friday night and it never disappoints" Janine M (December 2019, third stay).
"Tandoori take away is lovely" Ian & Melissa D (February 2014).
The Swan Inn
swaninnsidmouth.co.uk | 37 York Street. Tel. 01395 512849
This is a traditional English pub crammed with character and offering good beer and above average unpretentious pub grub in a relaxed atmosphere. It's slightly off the beaten track (on the road that leads to the ford) and is popular with locals. Note that they don't allow children inside.
"Excellent" Geoffrey S (May 2016),
"The Swan was OK" Kay P (October 2015).
"Very friendly and good food" Janice & Colin D (September 2014).
"The Swan Inn was particularly good" wrote Kristian H (March 2014).
Taste
facebook.com/TasteOfSidmouthLtd | Old Fore Street, tel: 01395 512634
A very popular ice cream parlour serving award winning home made ice cream and light lunches.
"Best of all Taste Ice Cream shop, WOW!!!" Rachel G (September 2019).
The Victoria Hotel
victoriahotel.co.uk/dining | The Esplanade. Tel. 01395 512651
The Victoria is a luxury 4 star hotel on the sea front with a restaurant and lounge bar that is open to non-residents. There is often a pianist or orchestra in the evenings and dinner dances on Saturdays. They take pride in their high quality service and refined atmosphere (gentlemen are required to wear a Jacket and tie in the dining room).
"Dinner at the Victoria was great, 5 star. Sit down at 7.30 to 7.45 pm to get live band." writes Paul B (February 2013).
The Volunteer Inn
volunteerinnsidmouth.co.uk | 52 Temple Street. Tel. 01395 512498.
Our local pub, The Volunteer, changed ownership in late 2017, has been refurbished and is now one of the best places to eat in Sidmouth.
"At the end of the day we like to wander off to a good local pub. The Volunteer just five minutes walk has been refurbished. Good beer, good food, good atmosphere." wrote Stuart A (April 2019).
The Volunteer is also recommended by Janine M "It now welcomes families and couples and serves great food including some 'smoke house' specials they smoke on site" (March 2018).
Find out more on these listing sites:
You can read more formal restaurant ratings and listings on these web sites: