A visitors guide to the Regency town of Sidmouth
Sidmouth is a charming unspoilt seaside town in East Devon. It has a thriving town centre with a unique mixture of independent shops, galleries, pubs, cafes and restaurants. There is a cinema and theatre as well as parks, playgrounds and a public swimming pool. The focal point is the long esplanade where visitors can enjoy a leisurely stroll along the seafront with views out to sea and to the distinctive red cliffs of the Devon coastline.
E&LJ wrote "We have been visiting Sidmouth two to three times a year for the past 30 years. We recommend it so many times to people we meet and all our friends and family. It just keeps getting better, great places to eat and places to visit. To us there's no place like Sidmouth" (September 2014).
Sidmouth Folk Festival
Every year, at the beginning of August, the town plays host to a week long folk music and dance festival that attracts visitors from all over the world. The effects echo throughout the year with regular live music performed in venues around the town and on the High Street.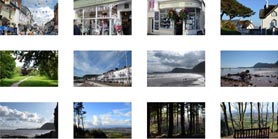 Sidmouth's beaches
Sidmouth has beautiful pebble beaches with sand and rock pools to explore at low tide.
> Find out more about Sidmouth's beaches.
Eating out
Holiday makers enjoy a wealth of restaurants, pubs and cafes in and around Sidmouth.
> Find out more about local eateries on our Eating out in Sidmouth page.
The Donkey Sanctuary
At the Donkey Sanctuary you can make friends with rescued donkeys from all over the world as well as enjoy walks down the valley to the nearby pebble beach. Entry is free and there are children's trails, a maze, cafe and shop.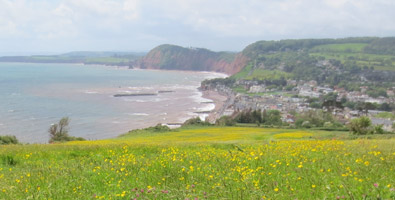 Walks around the Sid Valley
From gentle strolls along the river valley to bracing cliff top hikes there are walks to suit everyone in this part of East Devon.
> Find out more about walks in and around Sidmouth.
Connaught Gardens
At the top of Jacob's Ladder steps are freely accessible walled gardens with a band stand, cafe and stunning views along the coast.
> Find out more about the Connaught Gardens.
Winter and Christmas time in Sidmouth
Winter breaks offer bracing seaside walks; cosy country pubs; relaxing evenings by the log burner; unique Christmas shopping opportunities and some unusual festive events.
> Find out what's on offer in Sidmouth in the winter time.