Chandler's Cottage in a nutshell
What to expect from a holiday at Chandler's Cottage:
Two bedrooms, sleeping up to four in one double and one twin.
A comfortable living room with a wood burning stove, Freeview TV and DVD player.
Mature garden with outdoor table, chairs and benches.
No smoking and, sorry, but no pets are allowed.
Free access to the cottage Wi-Fi.
Exclusive off-road parking space immediately in front of the house.
Convenient walking distance from Sidmouth town centre and seafront.
Available all year round for holidays from 3 nights up to 2 weeks long.
Find rates for typical holidays on our rental price list.

Check your holiday dates on our availability calendar.
Lengths of stays, changeover days, terms and conditions are all in 'how to book'.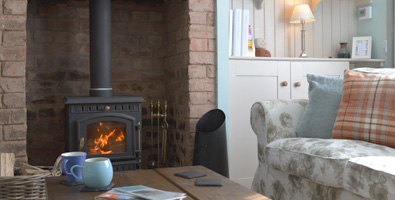 Details about the cottage facilities, layout and notes on accessibility are all on the accommodation page.
We were all very happy with the cottage. Very nicely decorated and comfortable.
CT from England
The most memorable aspect: "Playing board games by the fire and Alfie's first holiday"
AU from England
The cosy fire, comfy beds and the lovely welcome pack made it a delightful stay.
S&AS from England
We just felt so happy and relaxed it was hard to leave.
E&LJ from England